DW882ST
High Brightness Short-Throw Projector
Large screen from short distance
The DW882ST is designed to cater for the education needs. The DW882ST delivers a 88" diagonal image from less than 1 meter installation distance from the surface. With a brightness of 3,600 ANSI Lumens and contrast ratio of 15,000:1 it delivers a perfect image display. The projector is designed for use in any classroom, small office or at home. With its light weight and compact form this is a short throw projector for easy installation that will fit any budget.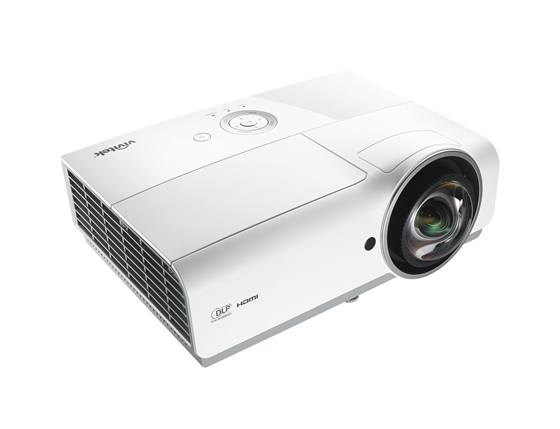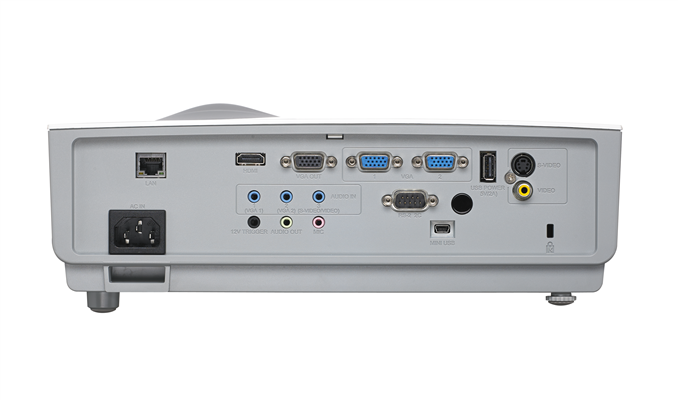 Key features
Short-Throw 0.52:1 T.R.
High Brightness 3600 ANSI and 12000:1 High Contrast Ratio
Delivers a 88" diagonal image from less than 1 meter installation distance from the surface
Short throw projection allows presenter to stand in front of the screen without blocking image, casting shadows and eye glare
Assortment of connectivity options including HDMI 1.4b, VGA, S-Video, Composite Video, Audio-In/Out
3D compatibility with DLP® Link™ and HDMI 1.4b Blu-ray support for dazzling and realistic life-like images
6 Segments (RYGCWB) colorwheel for accurate and detailed images
Sealed optical engine to keep dust out and improve performance
Integrated 10W audio speakers
Integrated network monitoring and management solutions (product certified) including Crestron® RoomView™, Extron, AMX SSDP and Telnet
Anti-theft security features include: Kensington® security slot, security bar, and PIN lock keypad

DLP® Technology
DLP (Digital Light Processing) is a display technology from Texas Instruments (TI). The technology inside is often referred to as DMD (Digital Micro-Mirrors). It consists of an array of mirrors where each mirror represents a pixel element. For example, a high-definition DLP projector or rear projector with 1920 x 1080 pixel resolution would have over 2 million tiny mirrors. Each mirror is attached to an electronically driven hinge that controls the amount of colored light that is reflected from

BrilliantColor™
BrilliantColor from Texas Instruments is a multi-color processing technology that produces vibrant images. BrilliantColor technology uses up to six colors, instead of just the three primary colors, red, green and blue, to improve color accuracy and brightens secondary colors.

3D Ready
A projector that is 3D Ready can accept a 120Hz frame-sequential 3D signal from a computer. These projectors are not compatible with the HDMI 1.4 3D specification used on 3D Blu-ray players and set-top boxes. 3D ready uses DLP Link Technology from Texas Instruments.

HDMI
HDMI (High Definition Multimedia Interface) is an uncompressed, all-digital audio/video interface that supports audio/video sources such as a set-top box, DVD player, A/V receiver, and video monitors such as a digital projector or digital television (DTV). HDMI is backward compatiable with DVI 1.0 specification and supports HDCP.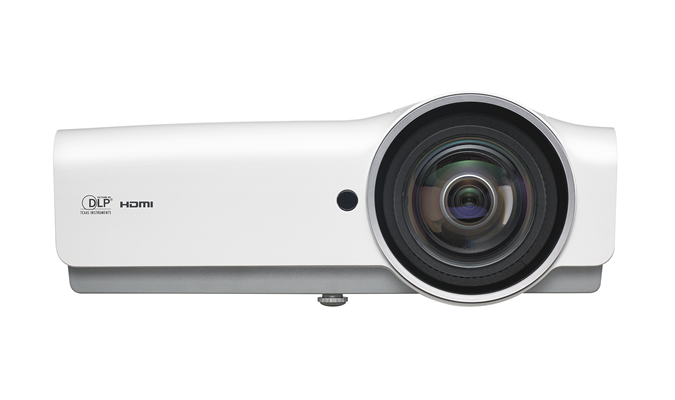 | | |
| --- | --- |
| Native Resolution | WXGA (1280×800) |
| Brightness | 3600 ANSI Lumens |
| Contrast Ratio | 15,000:1 |
| Max. Supported Resolution | WUXGA (1600 x 1200) @60Hz |
| Native Aspect Ratio | 16:10 |
| Lamp Life and Type | 3500h/5000h/7000h, UHP Osram 240W/190W (Normal/Eco/Dyn.Eco) |
| Display Type | Single chip DLP® Technology by Texas Instruments |
| Chip Size | 0.65″ DMD |
| Throw Ratio | 0.52 |
| Image Size (Diagonal) | 68″ ~ 200″ |
| Projection Distance | 0.77 ~ 2.24 |
| Projection Lens | F2.8, f=7.51mm |
| Zoom Ratio | Fixed |
| Offset (Based on Full Image Height) | 112% |
| Keystone Correction | +/-40 Degree; +/- 40 Steps |
| Speakers | 10W x1 |
| Video Compatibility | SDTV (480i, 576i) / EDTV (480p, 576p) / HDTV (720p, 1080i, 1080p), NTSC (M, 3.58/4.43 MHz), PAL (B,D,G,H,I,M,N) SECAM (B,D,G,K,K1,L) |
| I/O Connection Ports | VGA-In (15pin D-Sub) (x2), HDMI (x1), S-Video (x1), Composite Video (x1), Audio-In (Mini-Jack) (x3), VGA-Out (15pin D-Sub) (x1), Audio-Out (Mini-Jack) (x1), RJ45 (x1), IP Telnet Capable Over RJ-45, RS-232 (x1), USB A (5V Power), USB miniB (x1 Service), Microphone (Mini-Jack) (x1) |
| Dimensions (W x D x H) | 314 x 216 x 126 mm |
| Weight | 3.2 kg |
| Noise Level | 36dB/32dB (Normal/Eco) |
| Power | Supply: AC 100-240V, 50/60Hz Consumption: 310W (Normal Mode), <0.5W (Standby Mode) |
| 3D Ready(DLP link, PC+Video) | Yes |
| Spare Lamp P/N | 5811119560-SVV |
| Remote Control P/N | 5041818400 |
| Standard Accessories | VGA Cable, Component Cable, User Manual (CD), Lens Cap, Quick Start Guide, Warranty Card (by region), Remote Controller (with battery), AC Power Cord |
| Optional Accessories | Spare Lamp P/N: 5811119560-SVV , Remote Control P/N: 5041818400 |
| Warranty | Standard Warranty: 3 years projector / 1 year on lamp or 1000 hours whichever comes first, Education Warranty: 5 years projector / 3 years on lamp or 2000 hours whichever comes first |
| UPC Code | 814964 339843 |