DH976-WT
High Brightness Multimedia 1080p Projector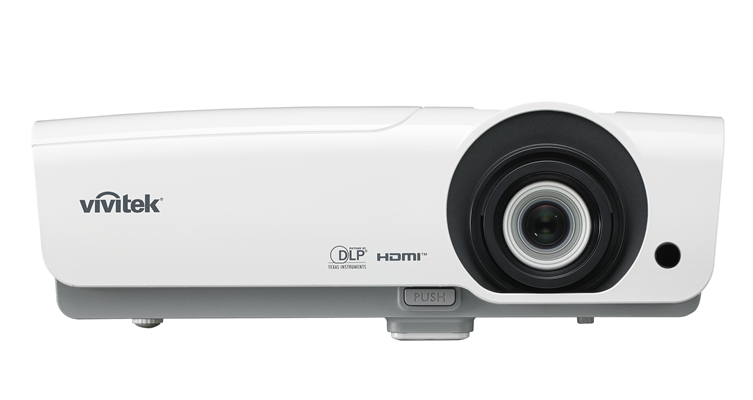 Suited for installations in meeting rooms for professional usage
The Vivitek DH976-WT is a high brightness multimedia digital projector. The DH976-WT delivers an amazing image quality and would be perfectly suited for any large meeting room. With a brightness of 4,800 ANSI lumens, 1080P resolution and an outstanding 15,000:1 contrast ratio, the projector performs outstanding. The DH976-WT also features DLP Link™ and BluRay 3D functionality, Crestron® RoomView™ certification, high-efficiency lamps and an assortment of connectivity options for easy connection to a variety of multimedia devices.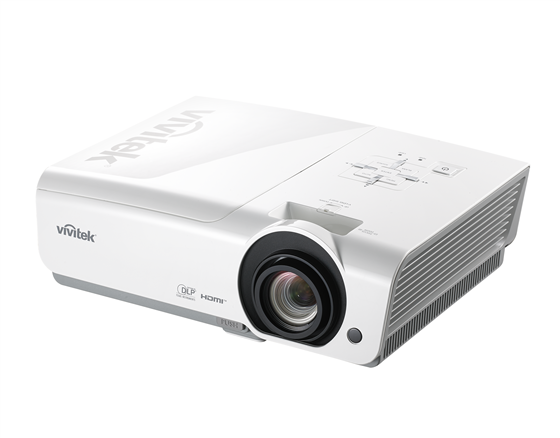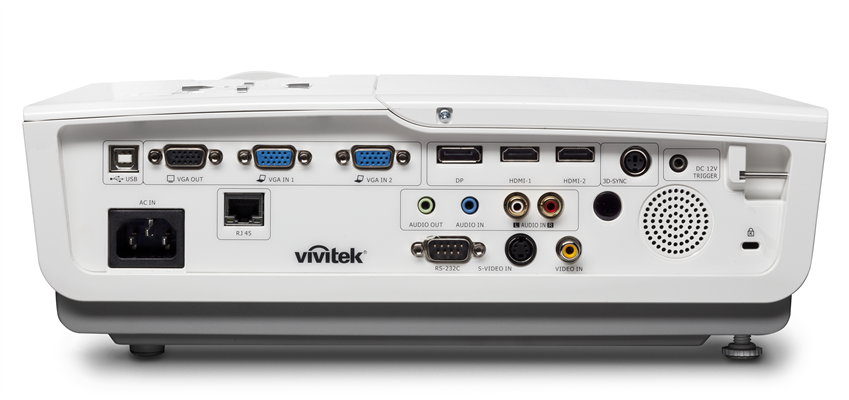 Key features
Full high definition 1080p (1920×1080) resolution with 4,800 ANSI lumens and a 15,000:1 contrast ratio
DLP® DarkChip3™ and BrilliantColor™ technologies for optimal black levels and vibrant colorful images
Complete I/O connectivity with 2x HDMI ports (3D compatible) and DisplayPort
Vertical lens shift and 1.5x zoom range for flexible image sizing and distance planning
5 segment RYGWB color wheel for improved and vivid color reproduction
Assortment of video (HDMI 1.4b, DisplayPort, VGA, S-Video, Composite Video), communication (RJ45, USB, RS232, 12v trigger) and audio (audio-in/out) I/O options for simplified device connectivity
Extend lamp life with an energy efficient lamp that deliver up to 4,000 hours of usage (Dynamic Eco. Mode)
Project 3D content from DLP® Link™, PC based 3D and BluRay HDMI 1.4b for realistic life-like images
Built-in 3W audio speaker with multiple audio-in and audio-out ports
Integrated network monitoring and management solutions (product certified) including Crestron® RoomView™, Extron, AMX SSDP and Telnet
Choice of 8 pre-set display scenario modes including presentation, bright, game, movie, TV, sRGB, blackboard and user
Integrated Closed Caption Decoding (CCD) automatically converts the audio portion of a TV signal and displays it as subtitles on the projected screen
Hassle-free maintenance with top loading lamp door for convenient lamp replacement

DLP® Technology
DLP (Digital Light Processing) is a display technology from Texas Instruments (TI). The technology inside is often referred to as DMD (Digital Micro-Mirrors). It consists of an array of mirrors where each mirror represents a pixel element. For example, a high-definition DLP projector or rear projector with 1920 x 1080 pixel resolution would have over 2 million tiny mirrors. Each mirror is attached to an electronically driven hinge that controls the amount of colored light that is reflected from

BrilliantColor™
BrilliantColor from Texas Instruments is a multi-color processing technology that produces vibrant images. BrilliantColor technology uses up to six colors, instead of just the three primary colors, red, green and blue, to improve color accuracy and brightens secondary colors.

3D Ready
A projector that is 3D Ready can accept a 120Hz frame-sequential 3D signal from a computer. These projectors are not compatible with the HDMI 1.4 3D specification used on 3D Blu-ray players and set-top boxes. 3D ready uses DLP Link Technology from Texas Instruments.