DH758USTiR
Full HD UST Projector with Built-in Interactivity and Finger-Touch Features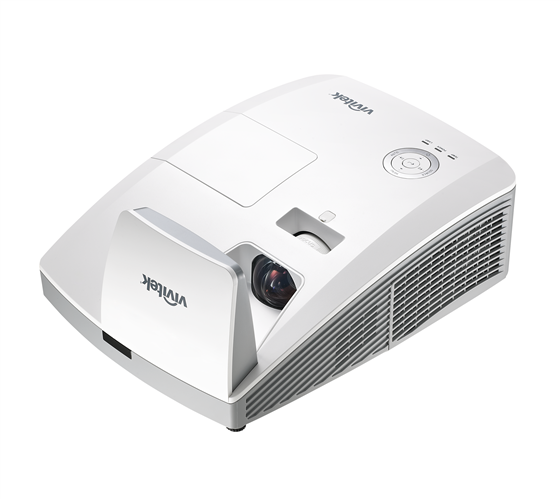 World's first 1080p UST Finger-Touch projector
The DH758USTiR ultra short-throw interactive projector delivers a large image up to 100" image from a distance of about 30 cm from the projection surface. The projector delivers a high brightness with 3,500 ANSI Lumens and an outstanding contrast ratio of 10,000:1 for a clear and crisp image. The DH758USTiR offers full IWB functionality with IR pen support and finger touch interactivity thanks to the optional DT01 Laser curtain kit. This finger touch kit enables users just to use their fingers to write, draw, or interact in an intuitive way. The DH758USTiR projector can easily be mounted with the provided wall-mount bracket.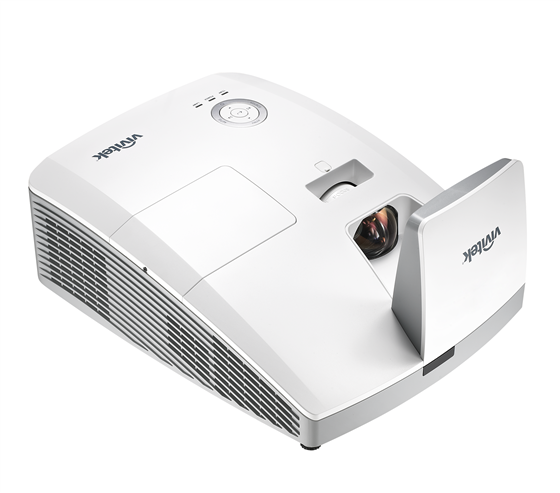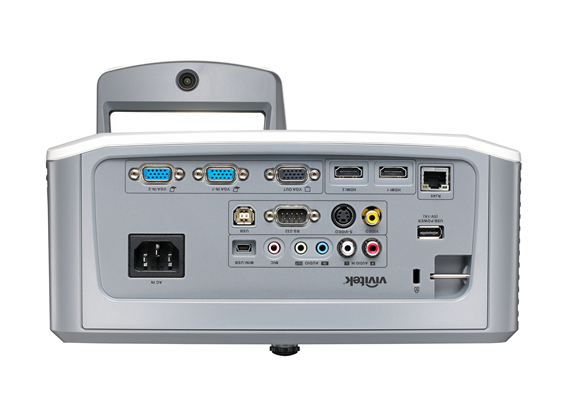 Key features
Brightness 3,500 ANSI lumens with a high 10,000:1 contrast ratio for bright nad sharp image
Native FullHD 1080p resolution (1920 x 1080), compatible up to WUXGA (1920 x 1200)
Ultra Short-Throw 0.33:1 T.R delivers a large image up to 100" from a ultra-short distance and enables perfect presentation without shadow and light glare in the presenter's eyes.
Assortment of connectivity options for easy connection to a variety of multimedia devices HDMI v.1.4, MHL, 2x VGA-in, 1x VGA-out, microphone input, audio-in/audio-out, RJ-45
Integrated network monitoring and management solutions (product certified) including Crestron® RoomView™, Extron, AMX and Telnet
3D compatibility with DLP® Link™ and HDMI 1.4b Blu-ray technology support for dazzling and realistic life-like images
Compatible with NovoConnect Wireless Presentation System for display
Integrated 20W audio speakers
Interactivity: Laser curtain module allows up to 4 simultaneous finger-touch for writing/drawing (optional). Two IR pens provided for simultaneous writing/ drawing. Automatic or manual calibration for interactive set-up
Upon request, free of charge wall-mount bracket

DLP® Technology
DLP (Digital Light Processing) is a display technology from Texas Instruments (TI). The technology inside is often referred to as DMD (Digital Micro-Mirrors). It consists of an array of mirrors where each mirror represents a pixel element. For example, a high-definition DLP projector or rear projector with 1920 x 1080 pixel resolution would have over 2 million tiny mirrors. Each mirror is attached to an electronically driven hinge that controls the amount of colored light that is reflected from

BrilliantColor™
BrilliantColor from Texas Instruments is a multi-color processing technology that produces vibrant images. BrilliantColor technology uses up to six colors, instead of just the three primary colors, red, green and blue, to improve color accuracy and brightens secondary colors.

3D Ready
A projector that is 3D Ready can accept a 120Hz frame-sequential 3D signal from a computer. These projectors are not compatible with the HDMI 1.4 3D specification used on 3D Blu-ray players and set-top boxes. 3D ready uses DLP Link Technology from Texas Instruments.

HDMI
HDMI (High Definition Multimedia Interface) is an uncompressed, all-digital audio/video interface that supports audio/video sources such as a set-top box, DVD player, A/V receiver, and video monitors such as a digital projector or digital television (DTV). HDMI is backward compatiable with DVI 1.0 specification and supports HDCP.
| | |
| --- | --- |
| Native Resolution | 1080p (1920 x1080) |
| Brightness | 3500 ANSI Lumens |
| Contrast Ratio | 10,000:1 |
| Max. Supported Resolution | 1080p (1920 x 1080) @60Hz |
| Native Aspect Ratio | 16:9 |
| Lamp Life and Type | 3000/ 4000 / 7000 Hours (Normal/Eco/Dyn.Eco) |
| Display Type | Single Chip DMD |
| Chip Size | 0.65″ |
| Throw Ratio | 0.33:1 |
| Image Size (Diagonal) | 88`~ 110 |
| Projection Distance | 663mm~ 833mm |
| Projection Lens | F=2.5, f=5.1MM |
| Zoom Ratio | Fixed |
| Offset (Based on Full Image Height) | 124% |
| Keystone Correction | Vertical +/- 40° |
| Speakers | 20W |
| Video Compatibility | SDTV (480i, 576i) / EDTV (480p, 576p) / HDTV (720p, 1080i, 1080p), NTSC (M, 3.58/4.43 MHz), PAL (B,D,G,H,I,M,N) SECAM (B,D,G,K,K1,L) |
| I/O Connection Ports | VGA-In (15pin D-Sub) (2x), HDMI (HDMI/MHL x1, HDMI x1), S-Video (x1), Composite Video (x1), Audio-In (RCA) (x1), Audio-In (Mini-Jack) (x1), VGA-Out (15pin D-Sub) (x1), Audio-Out (RCA) (x1), Audio-Out (Mini-Jack) (x1), RJ45 (x1), RS-232 (x1), USB A (x1 (5v, 1A)For Power Only), USB miniB (x1), USB B (x1), Microphone (Mini-Jack) (x1), Interactive Function (Yes/ IR/ Finger Touch) |
| Dimensions (W x D x H) | 287.7 x 374.5 x 122.6mm (not including height of mirror ) |
| Weight | 5 kg |
| Noise Level | 37dB/33dB (Normal/Eco) |
| Power | Supply: AC 100-240V, 50/60Hz Consumption: 380W/320W (Normal/Eco. Mode), <0.5W (Standby Mode) |
| 3D Ready(DLP link, PC+Video) | Yes |
| Spare Lamp P/N | 5811119833-SVV |
| Universal Wall Mount (T/R 0.35) | 3900228200 |
| Remote Control P/N | 5041818400 |
| Standard Accessories | VGA Cable, User Manual (CD), Quick Start Guide, Warranty Card (by region), Remote Controller (with battery), IR interactive Pen / nbr, Battery / Capacity (mAh), AC Power Cord |
| Optional Accessories | Spare Lamp P/N: 5811119833-SVV , Universal Wall Mount (T/R 0.35), Remote Control P/N: 5041818400 |
| Warranty | Standard Warranty: 3 years projector / 1 year on lamp or 1000 hours whichever comes first, Education Warranty: 5 years projector / 3 years on lamp or 2000 hours whichever comes first |
| UPC Code | 81496433987 4 |