Key Features
Brightness(Typ.) : 450 cd/m²
Bezel : 11.9 mm (T/R/L), 18 mm (B)
Depth : 54 mm
Interface : HDMI(3)/ DP/ DVI-D/ USB 3.0/ RS232C/ RJ45/ Audio/ IR
Built-in Speaker : 10W + 10W
Quad Core SoC with webOS
High Performance Smart Platform
Quad Core SoC (System-on-Chip) executes several tasks at once with smooth content playback without a media player. webOS smart signage platform enhances user convenience with intuitive UI and simple development tools.
Integrated CMS
Easy Contents Management
Embedded CMS (Content Management System) allows users to edit and play content, and create playlists, all without a seperate PC. It's a one-stop solution that lets users manage signage simply, and effectively.
GUI for B2B & EZ Setting
Enhanced Usability
A B2B dedicated GUI for portrait and long range environment modes provides convenient user management. With the 'EZ setting', users get integrated management of signage special features through a unifying access point.
Video Streaming
Real-time Streaming
Various types of IP video streaming protocols such as RTSP/RTP/HLS and UDP Multicast are supported for real-time content streaming. It is easy to manage content as it is free from capacity limits for content playback, and provides live broadcasts.
* Image is for illustration-purposes only.
Gapless Playback
Seamless Content Playback
During playback of diverse content such as videos, images, and HTML, enjoy seamless transition between screens with no black screen gaps with webOS.
PBP/PIP
Multiple Screen Composition
PBP (Picture-By-Picture) and PIP (Picture-In-Picture) enables up to two divided split screens in landscape or portrait display format enabling users to more flexibly allocate space for each content source.
Detachable Logo & Built-in Speaker
Suited for Industrial Design
The detachable logo allows for installation in the desired orientation: landscape or portrait mode. Also, sounds can be played from built-in speakers, giving advertisements greater impact.
Wireless Solutions
Support for Network Protocol
Value-added Offerings
Thermal Printer Supported
Users can easily enable the thermal printer solution* by plugging a USB into the display. It functions versatilely as a ticketing machine for various locations such as restaurants, movie theaters, banks and airports.
Value-added Offerings
Real-time Care Service
The maintenance gets easier and faster with an optional service Signage 365 Care, a cloud service solution provided by LG service. It remotely manages status of displays in client workplaces for fault diagnosis and remote-control services, ensuring the stable operation of a client's business.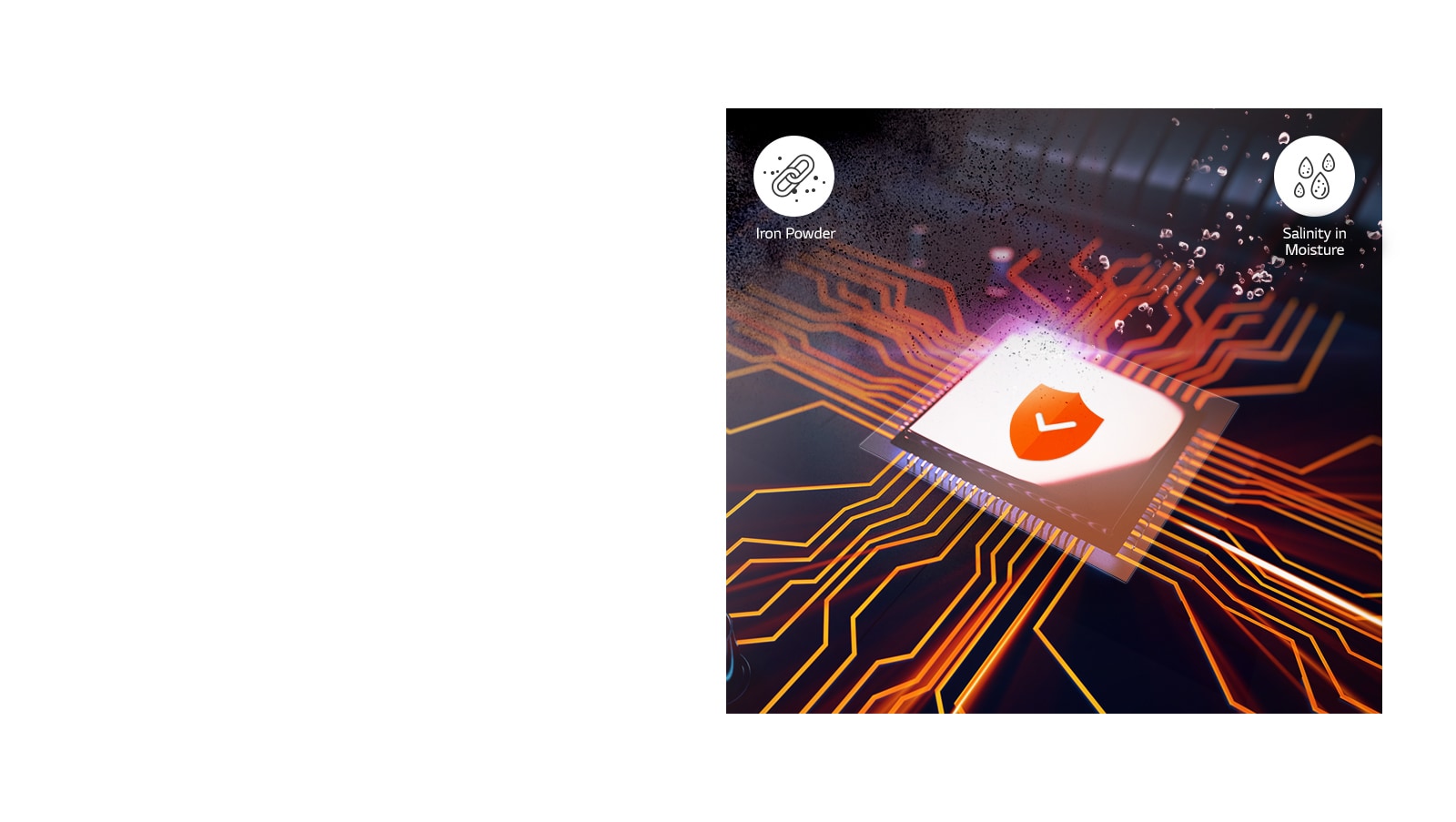 Conformal Coating
The product can be often unavoidably exposed to dust and water during maintenance. Conformal coating on power board eliminates such troubles by protecting it against dust, iron powder, humidity, etc.
Optimized Work-Flow with LG Presenter
LG Presenter, an embedded application, enables wireless screen sharing* between computers and LG digital signages. It provides users with a smart and convenient meeting experience, reducing time spent unnecessarily managing devices and cables for connection.
Panel