Canon XEED WUX500ST
Compact, high-performance short throw projector, with 5,000-lumens colour brightness, advanced features and low running costs.
Comprehensive, versatile short throw projector
Innovative features, impressive image accuracy and 5,000-lumens colour brightness from a compact short throw projector. The high-performance XEED WUX500ST offers a crisp 1920 x 1200 resolution and class-leading power efficiency.
Throw Distance Calculator / CAD Data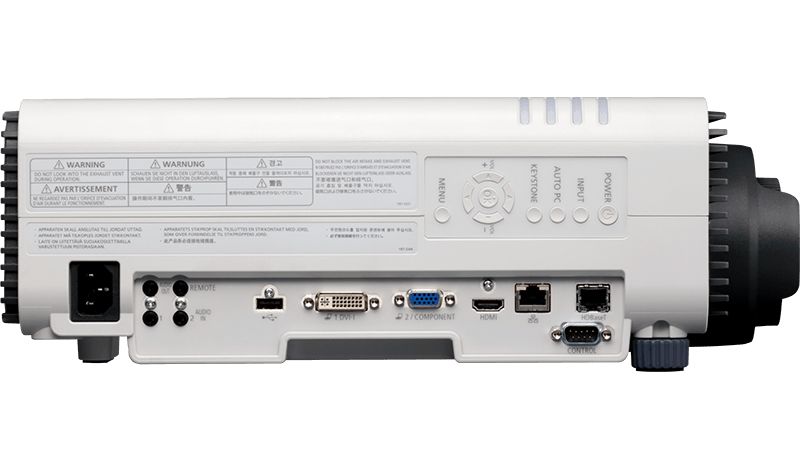 Installation flexibility
Vertical and horizontal lens shift capability (75% and 10% respectively) allows for superb versatility when selecting where to locate the projector.
Crisp, precise images
WUXGA-resolution LCOS panels deliver accurate, detailed images, ideal for corporate presentations as well as installation usage.
Bold, punchy colours
Canon's AISYS technology produces 5,000-lumens colour brightness and a high 2,000:1 contrast ratio, delivering engaging images.
Superb power efficiency
With 395-watt power consumption, the XEED WUX500ST offers best-in-class efficiency. Alongside its 5,000-hour* lamp life, this results in impressively low running costs.
*Hours after which the lamp will be 50% of its original brightness and should be replaced.
Innovative features
The XEED WUX500ST boasts a range of advanced features, including PC-less multi-projection with edge blending, picture-by-picture presentation, and Wi-Fi connectivity.
Specifications in detail
Panel
Type
LCOS reflective display, TFT Active Matrix
Native Resolution
1920 x 1200 (WUXGA), 2304000 pixels
OPTICS
Lens F Number and Focal Length
Zoom Magnification and Control
Lens Shift
Vertical: 0% to +75%, Manual
Horizontal: +/-10%, Manual
IMAGE AND AUDIO
Brightness
5000 lumens (3460 lumens in Eco Mode)
Colour Brightness
5000 lumens (3460 lumens in Eco Mode)
Projection Distance Coverage
0.35m – 3.64m (1.2m for 100″ image)
Screen size
30" – 300" (65 x 40cm – 646 x 404cm)
Digital Zoom Magnification
Keystone Correction Range
Vertical: +/-12°
Horizontal: +/-12°
Digital RGB Compatibility
WUXGA / UXGA / WSXGA+ / SXGA+ / WXGA+ / FWXGA / WXGA / SXGA / XGA / SVGA / VGA
Analogue RGB Compatibility
WUXGA / UXGA / WSXGA+ / SXGA+ / WXGA+ / FWXGA / WXGA / SXGA / XGA / SVGA / VGA
Digital Video Scan Systems
1080p / 1080i / 720p / 576p / 480p
Component Video Scan Systems
1080p / 1080i / 720p / 576p / 576i / 480p / 480i
HDBaseT input
Equivalent to the input for HDMI terminal
Image Modes (Depends on input)
Standard / Presentation / Dynamic / Photo/sRGB / Video / User 1-5 / DICOM sim (only available on DICOM projector model)
PORTS AND CONNECTORS
Digital Video and Audio Input
HDMI (supporting Deep Colour)
Analogue RGB Input 2
Mini D-Sub 15-pin (Component via optional adaptor cable)
Audio Output
3.5mm stereo mini-jack (variable level)
Service Port / RS232C Control
Network Port
RJ-45 (1000BASE-T / 100BASE-TX / 10BASE-T)
HDBaseT
RJ-45 (HDBaseT) – see table below
wifi
IEEE 802.11b / g / n. Approx 25m. Infrastructure mode & PjAP mode
Wi-Fi WPS
Push button method (PBS) & PIN code method (PIN)
Wi-Fi encryption
Open / WEP / WPA-PSK TKIP / WPA-PSK AES / WPA2-PSK TKIP / WPA2-PSK AES
MECHANISMS
Front Elevation Mechanism
Two rotary feet, 6° maximum image elevation
RATINGS
Power Consumption
Normal Mode: 395W / Eco Mode: 295W / Standby: 1.8W / Standby (LAN & HDBaseT off): 0.2W
Lamp Life
3000 hr / 5000 hr (Eco mode)
Operating Environment
0°C to +40°C, 20%RH – 85%RH
Warranty
All data is based on Canon standard testing methods except where indicated
Subject to change without notice.
HDBaseT Transmitter operation confirmation chart
A transmitter and a receiver is required to create an HDBaseT system. Normally, HDBaseT entails an external receiver and transmitter, and if these devices are made by the same manufacturer, their performance is usually guaranteed. However, because WUX500ST has a built-in receiver, the receiver and transmitter used will be made by different manufacturers. For this reason, in the list below, confirm that the transmitter you are using works with the projector before use. (Canon does not guarantee operations)
Brand
Model
Video
Audio
LAN
Serial
Crestron
DM-TX-201C
Yes
Yes
Yes
No
DM-TX-401C
Yes
Yes
Yes
No
AMX
DX-TX
Yes
Yes
Yes
Yes
Kramer
TP-581T
Yes※1
Yes
Yes
Yes
TP-582T
Yes
Yes
Yes
Yes
Gefen
GEF-HDCAT5-ELRPOL
Yes
Yes
No※2
No
Atlona
AT-HDTX-RSNET
Yes※1
Yes
Yes
No
CYP
PU-507-KIT
Yes※1
Yes
Yes
Yes
IDK
HDC-TH100-C
Yes
Yes
Yes
No※3
IMAGENIX
CRO-DE20TX
Yes
Yes
No
No※3
※1 When a certain input device is connected, the picture may not be displayed in intended resolution.
※2 LAN transmission disabled when the projector is in Standby mode (Transmitter is incompatible with LPPF2 mode)
※3 Serial transmission disabled when the projector is in Standby mode.