XEED WUX500
Compact install high brightness model with WUXGA resolution
The XEED WUX500 is a compact install model featuring high resolution, high luminance and high contrast. These features, combined with an advanced Genuine Canon projection lens and Canon's proprietary LCOS technology with AISYS 5.0 helps to produce crisp, bright images with exceptional colour reproduction.
Compact install
Installation Convenience with 4-Point Keystone Correction and Manual Lens Shift
5000 Lumens, WUXGA resolution (1920 x 1200)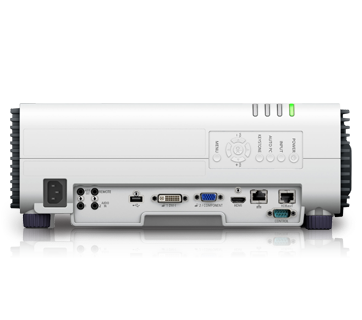 Features
NMPJ (Network Multi Projection) over Wi-Fi
In addition to wired LAN, a Wi-Fi function has been added to XEED WUX500 to support wireless LAN connection. This makes it possible to input image and audio signals wirelessly from a PC.
HDBaseT input
The WUX500 features HDBaseT reception function. HDBaseT provides connectivity for transmission of uncompressed high-definition (HD) video, audio and control signals over long distances, up to 100 meters, via a common category (Cat5e or above) cable with a standard connector (RJ45).
Advanced adjustment functions – 4-point keystone correction
XEED WUX500's 4-corner Keystone Correction adjustment method enables precise fitting to real-world screens; screen slant, imperfect screen aspect ratio, etc, and are all compensated for by the precision adjustment of just 4 points. Canon's newly developed imaging engine greatly minimizes poor resolution and moiré usually caused by keystone correction, projecting beautiful images even when applying 4-point keystone adjustment. Together with the projectors constant F.no 2.8 lens, image sharpness is ensured from corner to corner throughout its entire projection distance.
Display system
RGB liquid crystal system
Optical system
Colour separation by dichroic mirror / polarizing beam splitter and colour composition by prism
Display device
Type
Reflective liquid crystal panel
Size / Aspect ratio
0.71″ x 3 / 16:10
Drive system
Active matrix system
Number dots / Total Number dots
2,304,000 (1920 x 1200) x 3 panels / 6,912,000
Projection lens
Zoom ratio
1.8x
Focal length
f = 21.7 – 39.0mm
F value
F2.8
Zooming
Manual
Focusing system
Manual
Lens shift
V:
0% – +60%
H:
±10%
Light source
250-NSHA 260W / 200W (Lamp mode: Full power / Power saver)
Image size (projection distance)
Size 40 to 300 (1.2m to 16.2m)
Number of colours
16,770,000 colours (full colour)
Brightness
5,000 lumens (during presentation)
Contrast ratio
2000:1 (Full white: Full black, during presentation)
Ratio of brightness at periphery to center
90%
Speaker
5W monaural x 1
Maximum input resolution
1920 x 1200 dots
Video signals
Analog PC input
WUXGA / WSXGA+ / UXGA / WXGA+ / SXGA+ / SXGA / WXGA / XGA / SVGA / VGA
Digital PC input
WUXGA / WSXGA+ / UXGA / WXGA+ / SXGA+ / SXGA / WXGA / XGA / SVGA / VGA
Component input
1080PsF, 1080p, 1080i, 720p, 576i, 576p, 480i, 480p
HDMI input
From connected computers:
WUXGA / WSXGA+ / UXGA / WXGA+ / SXGA+ / SXGA / WXGA / XGA / SVGA / VGA
From connected AV equipment:
1080p, 1080i, 720p, 576p, 480p
Input terminal
DVI-I IN terminal
Digital PC (29-pin DVI connector) / Analog PC
HDMI IN terminal
Digital PC / Digital Video HDMI (deep colour)
ANALOG PC / COMPONENT IN terminal
Analog PC, Component (mini D-sub 15-pin)
HDBaseT terminal
RJ-45
LAN terminal
Networked multi-projection (RJ-45) 10BAST-T / 100BASE-T
USB terminal
JPEG images (USB Mass Storage Class)
CONTROL terminal
RS-232C (D-sub 9-pin)
REMOTE terminal
Wired remote control (3.5φ stereo mini jack)
AUDIO IN terminal
Audio signal (3.5ø stereo mini jack x 2)
AUDIO OUT terminal
Audio signal (3.5ø stereo mini jack)
Input signal
Digital PC
TMDS (Transition Minimized Differential Signaling)
Analog PC
0.7Vp-p, positive polarity, impedance = 75Ω
Horizontal / vertical synchronization: TTL level, negative or positive polarity
Composite synchronization in G signal: 0.3Vp-p,
negative polarity, impedance = 75Ω
Component video
COMPONENT: Separate Y Cb / Pb Cr / Pr signal
Y: 1Vp-p, negative synchronization, impedance = 75Ω
Cb / Pb: 0.7Vp-p, impedance = 75Ω
Cr / Pr: 0.7Vp-p, impedance = 75Ω
Audio
Impedance = 47kΩ or more
Noise (Full power mode / Power saver)
37 / 30dB
Operating temperature
0°C – 40°C
Power supply
AC100V – 240V 50 / 60Hz
Power consumption
Normal mode
365W
USB type B
295W
Silent mode
0.2W
Standby with LAN OFF, HDBaseT OFF
0.6W
Standby with Low-power LAN ON, HDBaseT OFF
1.1W
Standby with Low-power LAN ON, HDBaseT ON
1.5W
Dimensions (W x D x H)
337 x 370 x 136mm (including protrusions)
Weight
5.9kg / 13.0lbs
Accessories
Remote control, remote control dry-cell batteries, power cord, lens cap, PC connection cable, important information, user's manual (CD-ROM) and warranty card
Specifications are subject to change without notice.